Advertiser Disclosure: This site is part of an affiliate sales network and receives compensation for sending traffic to partner sites, such as CardRatings.com. This compensation may impact how and where links appear on this site. This site does not include all financial companies or all available financial offers. Opinions, reviews, analyses & recommendations are the author's alone, and have not been reviewed, endorsed or approved by any of these entities.
When learning a new hobby or skill, mistakes are bound to happen – and award travel is no different. With so many different hotel, airline, and credit card programs that have their own sets of rules, deadlines, and stipulations it can be extremely difficult to keep track of what to do and when. What's worse is that missing a deadline or using the wrong card can be costly when you miss out on awards you were expecting to receive.
Today we'll review some of the mistakes that many newcomers to the hobby make and how you can set yourself up to avoid them yourself.

Missing the Spend Requirement
Almost every credit card which offers a welcome bonus requires that you put a certain amount of spending on the account within a short timeframe, usually $3,000 – $4,000 within 90 days of opening the card. Banks do this for a multitude of reasons, but a major one is undoubtedly that they expect a certain percentage of cardholders to miss the deadline and forfeit their points, resulting in the acquisition of a new customer at no cost to them.
This is an easy mistake to make and it can be devastating when you expected to receive 50,000 – 100,000 points only to realize you were short a few dollars on your spend requirement. What's more, there's essentially no recourse – the banks will almost never offer you a courtesy bonus for getting "close enough" – you simply have to suck it up and move on.
The key things to remember in order to avoid this happening to you are that:
The clock starts the day you open the account, not the day you receive and activate your card. Since cards usually take a few days to arrive, you're already short.
Annual fees do not count toward your minimum spend, so you must make sure to account for that in your spending.
Keeping proper records of both your account opening dates and spending on the card will help ensure you don't miss your minimum spend requirements. I use a simple spreadsheet with columns for the card name, opening date, annual fee, and spend deadline to help keep me on track. There are lots of templates available, but I recommend you make your own in a way that works for you.
Great welcome bonus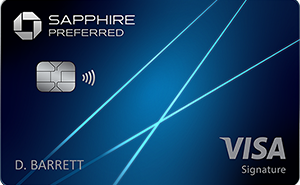 The
Chase Sapphire Preferred
is the best card for beginning travel hackers!
The
60,000 point
welcome bonus after spending $4k in 3 months is worth
$750+ off travel!
No foreign transaction fees, $95 annual fee
Named a 'Best Travel Credit Card' by MONEY® Magazine, 2016-2017
2. Eschewing Annual Fees
Many award travel rookies are understandably skeptical about paying high annual fees for credit cards, especially when there are so many great options that don't charge one. However, as you learn and utilize more of the benefits commonly offered by credit cards with annual fees you will notice that oftentimes the advantages outweigh the cost. You are paying for the opportunity to utilize benefits such as lounge access, rental car collision damage waivers, and travel insurance in addition to a (usually) hefty welcome bonus worth hundreds, if not thousands, of dollars in free travel.
The key to maximizing travel rewards, and especially credit cards with annual fees, is to ensure the benefits you are receiving are worthwhile. Most credit cards with an annual fee are worth keeping for at least the first year, but every time the annual fee comes due you should reevaluate its utility and see if it still makes sense to keep in your wallet. If not, downgrade it to a no-fee card (to keep the credit limit) and move on.
We wrote an article last year about this topic which runs through examples of cards with annual fees and how valuable they can be when accounting for the benefits they offer.
Poor Redemptions
There's a saying in the award travel community that "the only bad redemption is the one you don't make", which alludes to the fact that many of us tend to hoard points without ever using them because we always want to squeeze out every ounce of value and are never satisfied. While perfect redemptions are somewhat rare, you can absolutely leave value on the table if you aren't judicious about how you spend your hard-earned rewards.
The solution is to always check multiple redemption options before making your choice – including cash rates, travel portals (such as the Ultimate Rewards portal that allows you to book cash rates for a fixed redemption rate), and the number of points or miles required. Here's a sample trip from Chicago O'Hare to Washington Dulles on October 5, 2021 and its associated redemption costs if using Ultimate Rewards points:
Cash rate: $79
Ultimate Rewards Portal: 5,226 Ultimate Rewards points (if you have the Sapphire Reserve which offers 1.5 cents per point. The Sapphire Preferred gives 1.25 cents per point or 6,304 points).
United miles (transferred from Ultimate Rewards):  9,700
This example shows that you can have wildly different costs based on which redemption type you choose. In this case, you would receive about 0.8 cents per point in value ($79/9,700) when transferring UR to United or 1.5 cents per point (79/5,226) if you have the Sapphire Reserve card when redeeming through the UR Portal. Redeeming through the portal at 1.5 cents per point is a decent value but not incredible, so it would depend on whether or not you're comfortable spending cash or have some idle points you'd rather move. Either way, it pays to run the numbers before making a redemption.
Keeping a Balance on your Cards
The average interest rate of a credit card is 20.26%, so any time you run a balance you are accumulating fees that negate rewards. While you can likely earn great benefits from the card's reward program, there is no way it can outpace the interest fees associated with keeping unpaid balances.
Therefore, you should always pay off your credit cards in full each month in order to avoid extra fees and maximize the benefit of your rewards. If you are not in a financial position to pay off your balances each month, then your main focus should be to improve your situation and forget about credit cards and travel rewards until you do so.
Spending $ Just to Earn Points
This concept goes hand-in-hand with running a balance on your credit cards. Under no circumstance does it make financial sense to spend money simply to earn points. At best, you would earn a 5-7% return, or 5-7 cents per dollar. The whole idea with award travel and leveraging points and miles is to earn large quantities of points and miles from welcome bonuses and by strategically selecting how and where you make purchases you were already planning on making.
If you need ideas about how to generate spend on your cards, check out our post on meeting minimum spend requirements.
Poor Card Synergy
Card synergy refers to how well certain cards work together. As someone just starting out with award travel, you get the most benefits from having a small number of cards that have complementary benefits, such as the Sapphire Reserve for lounge access, travel credit, rental car insurance, and multiple points per dollar spent on travel and dining paired with a Freedom Flex as a no-fee catch-all for all other purchases with 5x earnings on quarterly rotating categories. What's more, it's important to focus on transferable currencies so that you can accumulate the same type of rewards that can be combined across cards (and across family members) for maximum redemption options.
Banks are always looking to attract new customers and constantly send out new offers for cards that seem enticing in hopes that consumers will apply and then never use the benefits (also known as "shiny card syndrome"). However, the more cards you apply for the harder it can be to keep getting approved as the inquiries on your credit report begin to accumulate so you should think carefully about every card you apply for and how it fits into your earning strategy.
Not Using Referral Links
Referral links are a powerful tool for award travel. By sending friends and family your referral link for credit cards, which they will eagerly accept after hearing about all your incredible travel adventures, you can pad your earnings even more. Most credit cards have some sort of referral program, though American Express is often the most consistent.
On another note, blogs such as this one often utilize referral links in their posts to earn a commission at no additional cost to the reader. While this topic is somewhat controversial in the blogosphere, Jeremy is upfront with his earnings and makes it clear that credit card commissions are a part of the business. We provide free and, hopefully, useful information to readers and very much appreciate when you use our links to apply for new cards.
Letting Points Expire
After you've expended so much time and effort earning points, the last thing you want to do is have them expire before you get a chance to use them. Every program has its own rules with regard to how and when points expire and most won't send a notification when it happens, so the onus is on you to keep track. While this can be done manually or within a spreadsheet, there is a great tool called Award Wallet which can track balances for nearly all loyalty programs and will notify you when they will expire within the next 90 days (more features available with an Award Wallet Plus account, which costs $30 per year).
I personally use and rely on Award Wallet to keep track of all balances across more than 35 programs and it does an excellent job of doing so once all of your accounts are synchronized. If you have points that are close to expiration, you can often reset the clock by making a purchase on the associated credit card, transferring points into the account, or using the shopping portal of the associated bank (if they have one). No matter how you keep track, it's vital that you do so to ensure you don't accidentally let valuable points expire.
Final Thoughts
With so many different award programs and rules, it can be extremely difficult to keep all the information straight. We've all made mistakes and missed out on rewards, but by following the rules of thumb above, you can avoid a lot of heartache and disappointment while getting the most out of your points and miles.
Top offers from our partners
Great travel card!
card_name -


bonus_miles_full




annual_fees


This is a great card for beginning travel hackers!

card_name -


bonus_miles_full


2X points on every purchase.
Learn more here.
card_name


bonus_miles_full

. *Rates and Fees.
Numerous credits - Up to $200 Uber credit. $200 hotel credit with two-night minimum stay. $240 media credit. (enrollment required)


annual_fees

. Terms Apply.

card_name
Small Business card.


bonus_miles_full

. Worth $1,250+.
3x points on travel (on the first $150,000 spent in combined purchases)


annual_fees

.
Interested in getting the best and latest offers directly in your inbox? We stay on top of the best offerings so you don't have to. Subscribe here.
Editorial Note – Opinions expressed here are author's alone, not those of any bank, credit card issuer, hotel, airline, or other entity. This content has not been reviewed, approved or otherwise endorsed by any of the entities included within the post.
User Generated Content Disclosure – Responses are not provided or commissioned by the bank advertiser. Responses have not been reviewed, approved or otherwise endorsed by the bank advertiser. It is not the bank advertiser's responsibility to ensure all posts and/or questions are answered.