I'm self-employed. How much do I owe in Self-Employment Taxes? How much can I contribute to an IRA?
This calculator provides answer to both of these questions, and more.
Net Earnings Calculator
Usage
Inputs:
Year: Your tax year. This is only important if total incomes exceeds the SS wage base.
Business Profit: Total self-employment income from all sources, minus business expenses.
Day Job Income: If you also have W2 employment, include that income here.
Outputs:
Income subject to self-employment taxes: 92.35% of the Business profit input.
SE Taxes: The calculated sum of self-employment taxes based on business profit and day job income.
1/2 SE Taxes: 50% of the calculated SE taxes. This is the deductible portion.
Net Earnings: Business profit - 1/2 SE taxes.
Background
When we work for a company, payroll taxes are evenly split between the employee and employer. As a sole-proprietor (or owner of an LLC taxed as such) we pay both halves of this tax, now referred to as Self-Employment taxes (calculated on Schedule SE.)
Since we now pay the "employer" portion ourselves, we get a tax deduction for that half of the payment. This must be taken into account when determining our maximum IRA contribution, which is limited to our net earnings.
Income subject to SE taxes = Business profit * 92.35% (Or 1 - 7.65%, the employer payroll tax percentage.)
Self-employment tax = Net income * 15.3%. Half of this amount is deductible.
Net earnings = Business profit - 1/2 SE taxes
Considerations
Self-employment tax consists of two parts: 12.4% for social security (old-age, survivors, and disability insurance) and 2.9% for Medicare (hospital insurance). The social security portion applies only to the SS wage base ($132,900 in 2019.) Medicare tax applies to all earned income.
If income subject to SE taxes is less than $400, no self-employment taxes are due.
This calculator does not include the additional Medicare tax of 0.9% that applies at higher income levels (over $250,000 for MFJ in 2019.)
Reduce Self-Employment Taxes
To reduce self-employment taxes (and all taxes, really) we need to take advantage of every possible business deduction. Refer to these posts for ideas and additional information:
Business Credit Cards!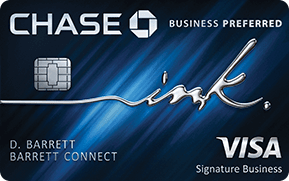 The Ink Business Preferred(SM) Credit Card is a favorite small-business card.
It currently offers an incredible 80,000 point welcome bonus after spending $5k in 3 months, and has a low annual fee.
A great feature of this card is you can combine points with other Chase cash back cards like Chase Freedom and Chase Freedom Unlimited under the Chase Ultimate Rewards Program.
Chase Freedom allows you to earn 5% cash back in categories that change quarterly, and the Freedom Unlimited earns a flat 1.5% on all spend.
And all of these points can be transferred to numerous hotel and airline programs!
Learn more about the Ink Business Preferred card HERE.