Advertiser Disclosure: This site is part of an affiliate sales network and receives compensation for sending traffic to partner sites, such as CardRatings.com. This compensation may impact how and where links appear on this site. This site does not include all financial companies or all available financial offers. Opinions, reviews, analyses & recommendations are the author's alone, and have not been reviewed, endorsed or approved by any of these entities.
Recently we discussed how utilizing "cash back" credit cards is an useful tool in any travel hacker's tool belt. Today, we'll go over another way to maximize the return on your online purchases with just a couple of extra clicks.
Enter the world of shopping portals!

What Are Online Shopping Portals?
Online shopping portals (aka 'portals') are third-party websites that offer a (usually) small incentive to you, the buyer, for clicking through their website and making purchases at selected online retailers. The portal itself receives a larger payout and kicks a portion of it to the customer, known as the payout.
In general, all prices on the website are exactly the same whether or not you visit through a portal and you are simply earning a commission on your purchase for going through their site. There are hundreds of portals that offer airline miles, hotel points, or cashback and you can almost always find one that gives a payout for the store you're shopping at, although the rates and currencies may be different.
How to Use a Portal
There are many, many shopping portals available on the Internet, and they don't all have the same payout rate. In order to compare the best rates, it's best to use a site like cashbackmonitor.com first to see what the rates are for various portals at your merchant of choice. Once you've identified the best rate, simply click the portal name to be taken to their page, log in to the portal (or create an account if don't already have one), and proceed to the merchant to make your purchase.
Related: Never Pay Retail Again
Which Portals To Use
No single portal has the best payouts for every site nor works for every merchant so you may end up using several. To make things simple, stick to a handful of reliable portals that have consistently high payouts and a good record of tracking purchases for the majority of your use. This keeps you from having small balances at a large number of portals as most won't give a payout until a certain dollar threshold is met.
Some of my favorite portals include (affiliate links):
I suggest making an account at each of the above portals and choosing the best option based on the accounts you have. In my experience, these portals offer consistently high payouts and purchase tracking.
Here are some of the travel-centric merchants that provide portal earnings that may not have realized:
Example
Say you're looking for a new carry on bag for upcoming travel (maybe in 2022?). EBags has a lot of different options, usually has a discount code, and often has a high portal payout so it's a good place to check first.
Go to cashbackmonitor.com and search for eBags. As the results populate, you see a list of portals and their payout rates sorted from highest to lowest.
Top Cashback is a reliable portal and is offering 15% cash back. Sweet! Click on their link and go to the Top Cashback portal. From that link, you're taken directly to the eBags merchant page on Top Cashback. Log in to (or create) your Top Cashback account and then click the "Get Cashback Now" button.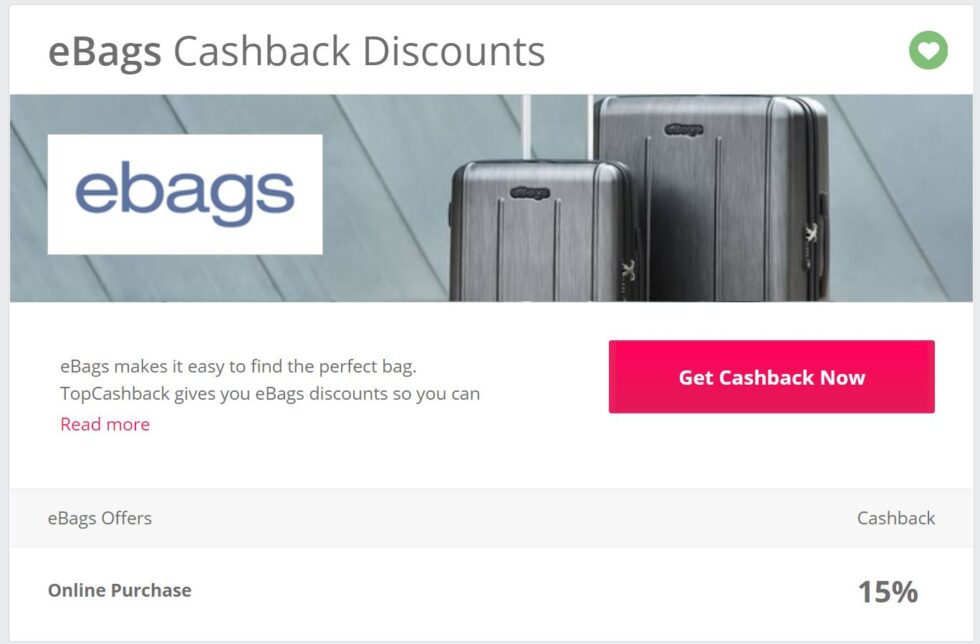 You will then be brought to the eBags site, with a note to indicate that your trip has been tracked.
Then, simply shop as normal. If you navigate back to Top Cashback, you'll see another confirmation message like this:
This indicates that your click-through was successfully recorded. Within a day or so (sometimes less), you should see your purchase under "My Dashboard" on Top Cashback and an estimated time as to when your cashback will become "payable". Most portals have a similar type of waiting period and dashboard.
Here's where you need some patience, as it often takes several weeks or even a couple of months to have the cashback become payable in your account. It's best to set it and forget it – use a portal for all your purchases, but don't expect to have it in your bank account immediately. Do, however, occasionally check the portal's dashboard to ensure the transactions are posting properly. If you made a purchase and the transaction doesn't show up in your account after a few days (whether or not it's payable yet), you can file a dispute with the portal and have them look into it to try and salvage your earnings.
Ensuring Success:
Although using shopping portals is an incredibly easy way to garner a higher return on your purchases, but there are a couple of pitfalls to be aware of which may affect your payout:
Turn off Ad Blockers or use Incognito Mode. Shopping portals rely on browser cookies to track your purchases, and having an ad blocker in place may inhibit this and completely thwart your cashback. You can disable the ad blocker for that particular site, or even better just use a tab in "incognito" mode or an entirely separate browser to complete your transaction to ensure there's no interference.
Be wary of Discount Codes. Some portals specify in their terms that cash back is not available when you checkout with a discount or coupon code, so read the fine print before clicking through (if an item is on sale it should be fine). Some portals list coupons on their page for specific merchants, and those will work without hindering your payout.
Be careful with Gift Cards. Gone are the days when you double dip by earning cash back on the purchase of a gift card and then immediately turn around and make a purchase with it to earn cash back again. Nowadays, most portals specifically exclude earning cash back when buying or redeeming gift cards. Although some portals don't enforce it, it should no be relied on as an effective source of cash back. However, in most cases if you make a purchase that is partially paid with a gift card, you will still earn a payout on the portion which was not paid with the gift card.
Pair With Rewards Cards
Remember, portal earnings are in addition to anything you're already making with credit card earnings. So if you are using a 2% cash back card like the Chase Freedom Unlimited (or other cash back cards) and are making 5% back in portal earnings, that's a 7% return just for clicking through the portal and using that card. Armchair earnings at its finest!
You can also increase your earnings by taking advantage of increased portal payouts. Often, portals will increase their rates in conjunction with major shopping events like Black Friday or Memorial Day in order to encourage you to use their site, and payouts can double or triple during these periods. I've seen them jump as high as 30% for some merchants, so it can really pay off to time your purchases appropriately. If you subscribe to the portal's email list, you'll be notified when these increases take place and can jump on them quickly as they tend to be short-lived opportunities.
Great Cashback Card!
The Chase Freedom Unlimited is one of the top cards for non-bonused spend!
$200 cash rewards bonus after spending $500 in the first 3 months
Unlimited 1.5% cash rewards (or Ultimate Rewards) on all purchases
No annual fee
Sometimes, using a shopping portal takes some outside-the-box thinking. Most high-traffic merchants like Amazon and Walmart have low payouts, so you won't make much by going through a portal when shopping there. However, you may be able to find the same item on a comparable site that offers a high payout and still come out ahead even if the price is slightly higher. In my example above, I searched for a jacket on eBags.com that, at face value, was not the best price. However, when combined with a 20% off coupon (which they frequently offer) plus 16-25% cashback and an extra 1.5x Ultimate Rewards from my Freedom Unlimited card, the price ends up being cheaper than at Amazon.
Summary
Shopping portals are a great way to earn an increased return on your online purchases. Simply by making a few extra clicks, you can realize significant savings on items you were already planning to buy – especially when paired with a rewards-earning credit card.
When using portals, turn off your ad blocker or shop in "incognito" mode and be wary of discount codes and gift cards in order to ensure success.
While outsized payouts aren't available for every merchant, it can be found at most online retailers with a little patience. Get in the habit of using portals for every purchase made online and soon you'll be reaping the rewards!
Top offers from our partners
Interested in getting the best and latest offers directly in your inbox? We stay on top of the best offerings so you don't have to. Subscribe here.
Editorial Note – Opinions expressed here are author's alone, not those of any bank, credit card issuer, hotel, airline, or other entity. This content has not been reviewed, approved or otherwise endorsed by any of the entities included within the post.
User Generated Content Disclosure – Responses are not provided or commissioned by the bank advertiser. Responses have not been reviewed, approved or otherwise endorsed by the bank advertiser. It is not the bank advertiser's responsibility to ensure all posts and/or questions are answered.