Advertiser Disclosure: This site is part of an affiliate sales network and receives compensation for sending traffic to partner sites, such as CardRatings.com. This compensation may impact how and where links appear on this site. This site does not include all financial companies or all available financial offers. Opinions, reviews, analyses & recommendations are the author's alone, and have not been reviewed, endorsed or approved by any of these entities.
Once you've applied for a few credit cards, met the spend requirements, earned the Welcome Bonus, and gone on some trips you may find that free travel is more fun and addictive than you could have imagined previously. You may also be finding that things like Chase's "5/24" rule and American Express' "one welcome bonus per lifetime per card" restrictions create obstacles which impede your ability to earn points at the levels you were at the start.
That's where "Two Player Mode" comes in!

Two Player Mode, or 2PM, is a phrase borrowed from the lexicon of video games wherein two individuals work together toward a common goal. As the hobby of earning credit card reward points is oftentimes referred to as "the game", 2PM refers to a couple (or family) who earns the same and/or complementary rewards points with the goal of combining them for award travel. 2PM can open a lot of doors for those who have a partner willing to apply for credit cards and do the follow-up work that's required such as meeting minimum spends, making on-time payments, calling the bank when needed, and downgrading or cancelling later on. It can also work for families with adult children or in conjunction with grandparents, friends, and more.
Why Use 2PM
Consider this scenario: you have just signed up for the Chase Sapphire Preferred card and gotten the (WOW!) 100,000 point signup bonus – it's highest ever. You're planning an anniversary trip for you and your spouse from Chicago to Maui using your newly minted Ultimate Rewards points and decided to transfer your points to Singapore Airlines since they offer economy award tickets on Star Alliance carriers for just 12,500 miles each way (pdf.)
You start looking for travel dates and think, "boy, it would be nice to fly home in first class!" but come to find out the rates are significantly higher than economy (46,500 miles) and you quickly realize you'll be short on points and also that you're not eligible for another Sapphire welcome bonus for 48 months.
But, having just read this article on GoCurryCracker, you see if your spouse is willing to sign up for the Sapphire Preferred card as well. They do and are approved. Hooray!
Great welcome bonus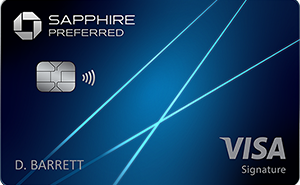 The
Chase Sapphire Preferred
is the best card for beginning travel hackers!
The
60,000 point
welcome bonus after spending $4k in 3 months is worth
$750+ off travel!
No foreign transaction fees, $95 annual fee
Named a 'Best Travel Credit Card' by MONEY® Magazine, 2016-2017
You put your regular monthly spending on these cards and use a few of our suggestions to meet the minimum spend requirements and you've both earned the welcome bonuses plus 8,000 additional points (from spending $8,000 to meet the spend requirements on both cards). You pool your points into a single account, transfer to Singapore Airlines, and proceed to book two one-way economy award tickets to Maui and two one-way seats in first class for the way home. You then throw caution to the wind and decide to transfer the remaining 50,000 points to Hyatt and stay at the Hyatt Regency Maui for two nights before heading home ($1,100+ value). You arrive home rested, relaxed, and with several thousand dollars more in your bank account versus paying out of pocket. This is what award travel is all about!
Who can do 2PM?
You don't have to be a married couple to take advantage of two player mode, although there is a certain level of trust that must be established between the parties in order to make the operation successful. Not all rewards programs allow you to pool points and no two programs do it the same way, but most of the transferrable currencies allow it in some capacity. Here are the major ones:
Chase Ultimate Rewards
[Notice: as of 6/1/2021 Chase has removed the online option to combine Ultimate Rewards points between household members on their website, but it can still be done over the phone. Hopefully this is temporary, but you never know].
Chase allows you to pool Ultimate Rewards points with any "member of your household". The definition of what constitutes a "member of household" is not clearly written out, however it's generally understood that anyone who has the same physical address on file would qualify. To do this, go to the Ultimate Rewards Portal and choose "Combine Points" from the left-hand menu. You'll need the last name and credit card number of the account you are transferring points to.
You can also merge points from multiple accounts you own, for example between a Sapphire Preferred and a Freedom Flex card, into a single account (since the non-fee cards like the Flex cannot transfer to award partners on its own).
Finally, you can also transfer points directly to the airline or hotel account of anyone who is an authorized user on your card (in addition to being a member of household), although we generally discourage adding family members as authorized users on accounts because they are often seen as additional accounts on their credit report which makes it more difficult for them to get new cards of their own in the future.
American Express Membership Rewards
Amex is more restrictive than Chase in what it allows for points pooling. While they automatically merge all Membership Rewards points earned from various cards like the Platinum or BlueCash Everyday into a single account for you, they do not provide a method of combining points among members. However, similar to Chase Ultimate Rewards, they allow you to transfer directly into the airline or hotel account of any authorized users associated with your card.
Again, we recommend not adding your partner as an authorized user if avoidable but it's a reasonable solution if you're out of options.
Citi ThankYou Points
Citi simultaneously has one of the best and worst systems of pooling points between members. It's great because they will allow pooling of points between any two cardholders as long as you know their name and account number – they don't need to be a member of household nor an authorized user on your account. However, there are some caveats you should be aware of:
You can only share 100,000 points per year and receive 100,000 points each year.
If you plan to transfer the pooled points to airline partners, the recipient must have a "premium" Citi credit card like the Premier or Prestige.
Points are only valid for 90 days after they are received. This rule really bites and can take people by surprise, so be sure not to pool points speculatively unless you plan to use them right away.
To pool Citi ThankYou points, head to www.thankyou.com, log in, and select "See all ways to Redeem", where you will find the screen to transfer to another member.
Capital One Miles
Though one of the newer transferable currencies, Capital One makes it easy to transfer points to any other cardmember — much like Citi but without the 90-day expiration rule. These points can then be used to "erase" travel expenses or transferred to one of their airline partners, though they often don't have the best rates among transferable currencies.
To transfer Capital One miles between accounts, log in and navigate to "View Awards" then "Share Rewards". At this time you can only transfer between your own accounts (like the Capital One Venture and Capital One VentureOne) online and must call Capital One to transfer to another person.
Marriot Bonvoy Points
Marriott Bonvoy points are also transferable between members without a fee, however you are limited to transferring 100,000 points and receiving 500,000 points per year. Once transferred, you can book hotel rooms or transfer to their airline partners which, like Capital One, are usually not a good deal.
To transfer points between members, you must contact Marriott directly as they do not provide a way to do so online. See this article for more information.
Hilton Hotels
Though not a true transferable currency, Hilton deserves an mention as they allow pooling of points between up to 11 members (you plus 10 others) for no fee. Each of the 11 members can supply up to 500,000 points to the pool which can then be used to book hotel rooms, experiences, and more.
To start a "pool", log in to your Hilton Honors account and navigate to the Points -> Pool menu  Input the names and email addresses of the other members you'd like to share with and send invites for them to join the pool. Note that individuals are limited to receiving 2 million points per year.
Dangers of 2PM
There are no rules against two friends, spouses, or family members having the same credit card and merging their resources for a shared trip. However, if the banks feel you are abusing the programs and suspect that you are buying or selling rewards points for profit, they are swift to close your accounts and confiscate all points. They clearly state their right to do this in the terms and conditions that you agree to when opening the account, and you have little recourse if they decide to drop the hammer.
To ensure you stay off their radar, make sure all points transfers and merges are above-board and within reason – e.g. don't try to transfer several hundred thousand Ultimate Rewards points to someone who doesn't have the same home address as you – and you will likely have no issues.
2PM Strategies
Chase Sapphire: P1 signs up for the Sapphire Reserve, P2 signs up for the Sapphire Preferred, which gives all the benefits of the Reserve (Priority Pass lounge access, excellent travel insurance, travel credits) and the ability to merge points between accounts and transfer to airline partners. 48 months later, both P1 and P2 are eligible for Sapphire bonuses again so they can refer each other to their current card (referral bonuses are not always available with Chase, however) and then sign up for the card the other person had. Either P1 or P2 can downgrade their card no a Freedom Flex or Unlimited within the 48-month period as well if they do not want to pay the annual fee. Repeat every 48 months so that someone always has a premium Sapphire card.
Amex: P1 signs up for the Platinum Card(R) from American Express and does a referral to P2 for the Gold card. You earn all of the points for both Welcome Bonuses plus the referral points (15,000 points or more) plus have access to Priority Pass and Centurion lounges as well as the other excellent benefits and credits of the cards. When the annual fees hit the next year, P1 refers P2 to the Platinum card and P2 refers P1 to the Gold card and the cycle repeats.
Final Thoughts
2PM is one of the most powerful strategies in the Award Travel space. By leveraging the ability to pool points with most currencies, you can earn double the amount of points and combine them for shared travel. As long as it's done within the guidelines of the program, there is no downside to you and a partner, friend, or family member separately signing up for credit cards and jointly using their benefits.
Top offers from our partners
Great travel card!
card_name -


bonus_miles_full




annual_fees


This is a great card for beginning travel hackers!

card_name -


bonus_miles_full


2X points on every purchase.
Learn more here.
card_name


bonus_miles_full

. *Rates and Fees.
Numerous credits - Up to $200 Uber credit. $200 hotel credit with two-night minimum stay. $240 media credit. (enrollment required)


annual_fees

. Terms Apply.

card_name
Small Business card.


bonus_miles_full

. Worth $1,250+.
3x points on travel (on the first $150,000 spent in combined purchases)


annual_fees

.
Interested in getting the best and latest offers directly in your inbox? We stay on top of the best offerings so you don't have to. Subscribe here.
Editorial Note – Opinions expressed here are author's alone, not those of any bank, credit card issuer, hotel, airline, or other entity. This content has not been reviewed, approved or otherwise endorsed by any of the entities included within the post.
User Generated Content Disclosure – Responses are not provided or commissioned by the bank advertiser. Responses have not been reviewed, approved or otherwise endorsed by the bank advertiser. It is not the bank advertiser's responsibility to ensure all posts and/or questions are answered.