GCC – A great way to boost early retirement success rates is to spend a little less in the early years. We did this by traveling in Central America rather than Western Europe, but there are a ton of good value options that are also physically and mentally rewarding. One of them is a dream holiday of mine, to walk the Camino de Santiago in Spain. 
I've wanted to write about this goal for some time, but wasn't sure where exactly to start. But then I discovered someone who has walked the Camino, not once, not twice, but FIVE times!!!  Who better to help the dream become a reality, for myself and others?
Please welcome today's guest post author, Miss Mazuma.
So you want to walk the Camino de Santiago…
Well of course you do! Who wouldn't you want to take 30 days to walk 500 miles across the varying landscape and weather that Spain has to offer? It is a feat that I have come to believe everyone should undergo at least once in their lifetime. But let me back up to introduce myself. My name is Bianca and I write about money and the mind at MissMazuma.com. Beside money (more importantly the freedom it gives you!), travel is my greatest passion and I am so grateful to Jeremy for reaching out to me so I can introduce you all to my favorite travel destination of all – The Camino de Santiago.
A quick google search of The Camino de Santiago (translates to "the path" or "the way" to Santiago) will net you 21 million results, a shocking number compared to the limited information I found when I first walked in 2005. For those who don't know, the camino is an ancient footpath in Spain once (and still for some) used as a pilgrimage as well as punishment for thieves, bragging rights for Kings and Queens, and more recently, for historical, spiritual, or tourist related purposes. There are many starting points to the camino but only one ending point, Santiago De Compostela (SDC), where the remains of St. James the Apostle are said to be buried. These days, the most popular starting point is St Jean Pied De Port on the French side of the Pyrenees, 500 miles from SDC. No matter where you start, a lot can happen in 500 miles so here is look at what you can expect on your journey…
You will follow arrows and varying signs and mile markers the length of "The Way"…
You will eat a ton of food – some completely foreign to you, others not so much…

You will walk in every type of weather on every type of terrain at every hour of the day…
You will see tributes, statues, animals, memorials, and more churches than you can imagine while walking through cities, villages, and one horse towns…

You will be tired, you may even get hurt, and at some point you will definitely want to quit. But hang in there…
because you will meet a ton of friends, some of which you will keep for a lifetime. The camaraderie is like no other…
And what your friends don't make up for, the locals will, because Spain is a country like no other…
And at the end of your journey, after many miles of walking, you will be handsomely rewarded…
Now that you made the trip in pictures, I highly suggest you get out there and give it a go. :)
Though the terrain varies, if taken slow enough, it is able to be accomplished by most. I have witnessed a blind man walking with his seeing eye dog, a woman with a baby on her back pushing another in a stroller, a man dying of cancer walking with a medical support team, dudes on horseback, a family of 5, a man in his 80's traveling solo, a woman in her 80's traveling solo, and too many college kids to count. I have seen crutches, wheelchairs, bikes, donkeys, horses, and wagons. If you want to hike/ride/be wheeled 500 miles, this is the place to do it.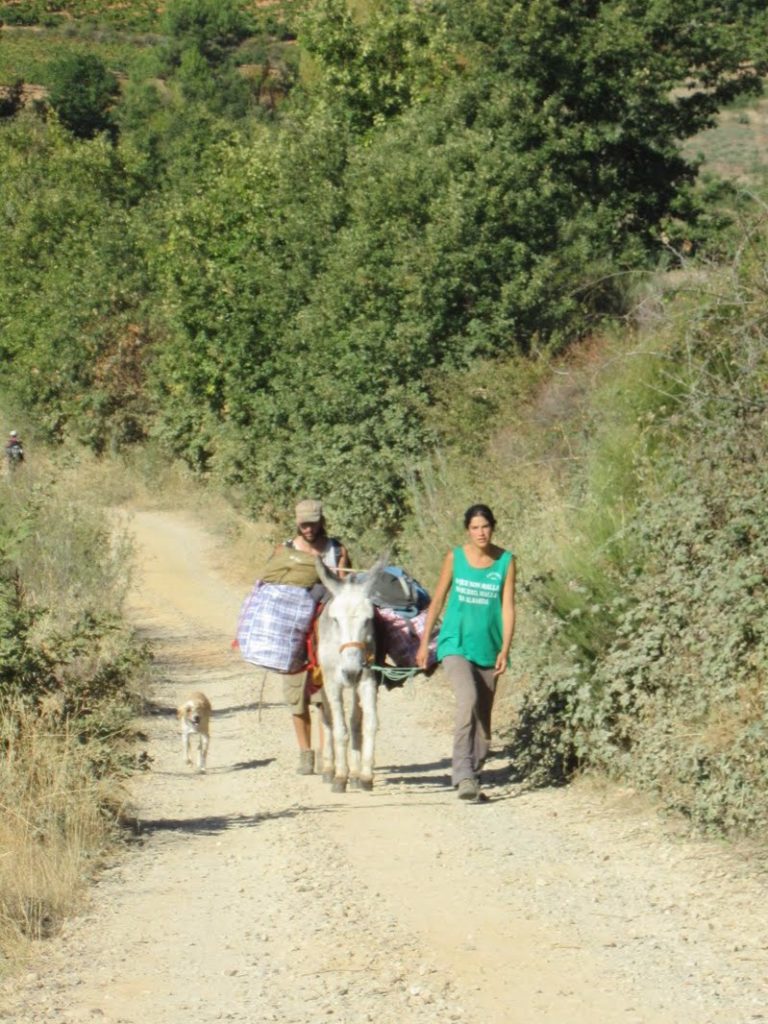 Now, let's talk money…
The FIRE community talks a lot about geo-arbitrage, if you play your cards right, the camino is vacation-arbitrage. You don't need expensive, heavy weight equipment to hike the Camino. No tents, no stove, no worries. In all, you can expect to spend 20-40 euros per person per day including food and lodging, two of the biggest vacation budget busters. I average about 20 euros a day (see below). Gear, on the other hand, is something you'll have to buy or borrow but will most likely last for future trips to come. Here is what works for me:
FOOD – I like to visit local grocery stores and take advantage of the communal kitchens for dinner often cooking multiple pounds of pasta not only for myself but to share with my fellow pilgrims (sharing is caring!). Each morning I eat a healthy serving of tortilla de patata along with a fresh squeezed zumo de naranja (OJ) from the first bar I see (4 euros). At lunch I usually grab a cheese or tuna sandwich (I don't eat meat but you are in the land of THE BEST ham (jamón) in the world) whereas others are quite fond of the "Pilgrims Menu" of the day which usually goes for around 10 euros and consists of a starter, main dish, dessert, and water OR wine. TIP – Check the albergues communal kitchen before heading to the store. Usually there is enough food in the pantry (canned goods, pasta, bread) donated from the people the night before. Grab some veggies and you have a complete meal for a couple euros!
LODGING – The beauty of this hike is that you have the opportunity to stay in a hostel like set up (commonly referred to as "albergues") every night. Albergues are not open to random tourists, instead, you must have a "credential" (similar to a passport and specific to this trail) to gain access to these accommodations. At each stop, the hosts (hospitalarios) will stamp your passport and assign you a bunk (or single bed if you're lucky!) for a small fee. The price ranges from a donation (donativo) to 20 euros a night depending on if you use a bunk or private room and if you get breakfast or dinner. If you've got kids that aren't used to sleeping together – I suggest you research tips for kids sharing a bedroom specifically for this purpose, or have a nightmare of a night on top of a stressful overall time. I like to stay in the municipal albergues which are the lowest priced but most packed. It's all about the experience! :) On occasion I will splurge on a private room to get a good night's rest. Hotel Spa Paris in Leon was a great night including free access to the aqua spa as is Molino Galochas outside Villafranca where your dining companions are super friendly…
Some take a few days off to stay in the larger cities and explore, while others (like me) keep on truckin. Camping is not encouraged because the entire route is lined with private properties and farms therefore trespassing is highly frowned upon. Don't be an asshole. You may be able to ask a hospitalario if you can camp in their yard but they will probably charge you the nightly rate anyway. Skip the tent weight and grab a bed.
GEAR – Your most two most important items will be your shoes and backpack. Personally, I like to hike in gym shoes but others like to hike in boots, Tevas, Crocs, and barefoot (though I don't suggest that due to the massive amounts of cow shit you'll no doubt walk through). My shoe of choice is pretty much anything Merrell, though I am partial to the Grassbow Air which I have used for the past 4 years. They started at $100 and are now down to $50 as they get closer to being discontinued. Time to buy a new pair! ;) TIP – I always buy half a size larger than my normal foot size. Your feet will swell with continuous walking which can cause blisters. If the shoes feel too big at first, wear an extra layer of socks until they do.
Backpacks are a complex topic. . Go to your nearest outdoor store (REI, Cabela, Gander Mtn) and try the bags on. Find something that fits well and weighs little. Gregory makes a great pack for women (I use an older version of the Jade 38 – $120) though Osprey's are also a great option and what I bought my mom (Kestrel 38 – $120) for her walk. Whatever you do, don't go overboard with the size of your bag. Bigger bag means more crap you will put in it. Keep it small. TIP – You can usually find last years bag on sale at a big discount and the only difference is the color. Google before buying and save yourself some dough. Also, check out Ebay and Craigslist (particularly if you live in an outdoorsy area) – I have sold quite a few used bags on both.
On a hike like this, many advocate for the 10-15% rule which means you should carry no more than 10-15% of your body weight. I am not fond of "rules" but it's a good guideline to see how your pack ranks. My total kit weighs about 17lbs including water. Some days it becomes part of me and I barely notice it, and others…
No matter what it weighs, it is you job to know your gear and how it works. Practice walking with it beforehand. Learn all the features and how to properly pack and adjust the weight. Learn how to access things in the dark (lights out in some albergues can be 8pm!) and how to pack quietly. Nothing is worst than a cranky pilgrim after a 5am wake up from the noisy packer in bunk 2. Figure all this out and you will have no problems. Now, all you have to do is walk 500 miles. That's not so hard, right?
SUMMARY OF COSTS
GEAR: $170 and up! The sky is really the limit with how much you want to pay.
Shoes – Expect to spend around $50-$100. If you are getting boots, expect to spend double.
Backpack – $120+ You can do this much cheaper by buying used or borrowing but if you are going to skimp, either way, the fit still needs to be right.
Other items you will need can be found on my packing list HERE.
FOOD: 5-20 Euros/day
LODGING: Free-20 Euros/day
————————————————————————————-
Total cost (not including airfare or gear) = 30 days x 25E/day = 750 euros +/-
I have done the camino 5 times never spending more than 25 euros a day but often spending less. This is the type of trip that you can customize. You can do this on a shoestring budget or you can go the luxuries route and stay at places like the famous parador in León. Remember, the original premise of this trip was a pilgrimage. People relied on the generosity of strangers and walked with no money at all!! The choice is yours though whatever you choose, I wish you a "buen camino"!
---
In the past 10 years, the popularity of the camino (specifically for Americans) has risen exponentially thanks to an increase of awareness brought to us by movies such as The Way, books like The Pilgrimage by Paulo Coelho and documentaries including Walking the Camino: 6 Ways to Santiago.  It isn't hard to understand why.  I have traveled all over the world and can honestly say that a walk on the camino is the most rewarding experience one could have.  If you have any questions, feel free to leave them in the comments below.
Other resources for information (beside Google) can be found at the following:
American Pilgrims on the Camino

(I am the founder of the Chicago Chapter and they meet once a month to do local hikes as do other Chapters.  Find yours

HERE

.)  

A Pilgrim's Guide to The Camino (French Way)

by John Brierley – This is my favorite guidebook though I know there are more recent downloadable versions by other authors.  Personally, I like having a physical book that I can write notes in.
Thanks for reading and thank you to Go Curry Cracker for giving me some motivation to get my ass back to Spain!  Camino 2018? :)
Until next time…
---
Sponsored content:
Why not enjoy a few free hotel nights before or after walking the Camino? This credit card has recently increased its sign up bonus to 100,000 points (!), enough for 4 or more free nights in Spain and beyond. Check it out. Offer ends Oct 2nd.