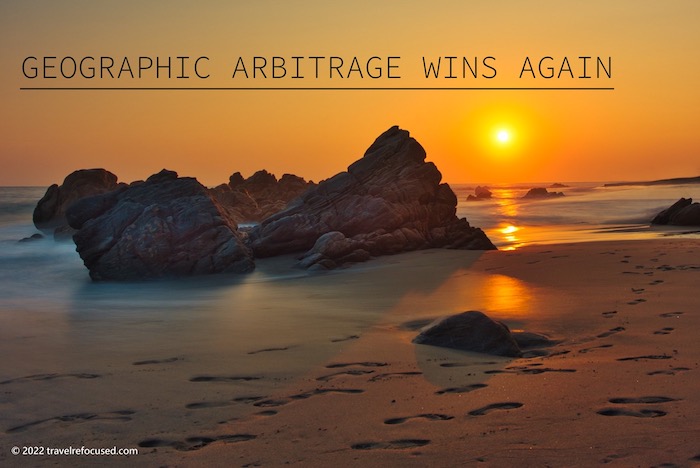 (GCC: Over the years I haven't been shy about how my favorite part of this little blog is the opportunity to have a positive impact on the lives of others. Now, the only thing even better than _that_ is when somebody takes an idea or concept and just… runs with it. Embrace and Extend! That is exactly what Skip has done… and now maybe you will too.)
One of the many benefits of a location-independent lifestyle is the ability to take advantage of geographic arbitrage. Geographic arbitrage is a valuable tool in our early retirement plan that provides both financial and quality-of-life benefits. It enables us to increase our purchasing power and reduce the burden on our retirement funds while traveling the world.
I first came across the idea of geographic arbitrage while reading a GCC article quite a few years ago: What is Your Retirement Number: The 4% Rule.
The article discussed developing a foundation for long-term success. The general gist was to live better for less in the early years of retirement while traveling through less expensive regions of the world. Spending less in the early years allows more of your money to grow, thereby bolstering the survival of your investment portfolio throughout a lengthy retirement.
This was a bit of a lightbulb moment for me. Although the early retirement gears were already turning, my wife and I had not really considered perpetual international travel as an option. However, the logic made too much sense to ignore. Live well for less and travel the world… all while reducing sequence of return risk on our retirement portfolio? Sign me up. (Reducing risk AND lowering future expenses too! Kickstart Your (Early) Retirement)
But… how has this concept held up under the current environment of investment portfolio losses and increasing inflation? I'm here to tell you, very well.
What is Geographic Arbitrage?
Before we go any further, let's define arbitrage.
According to Dictionary.com, arbitrage is the simultaneous purchase and sale of the same securities, commodities, or foreign exchange in different markets to profit from unequal prices. Simply put, it is taking advantage of different prices in different markets.
Geographic arbitrage involves earning income and growing savings in a geographic area with a stronger currency, then utilizing it in an area with a weaker currency. In other words, taking your income or retirement savings and moving to a place with a lower cost of living. This enables you to maintain or enhance your standard of living while spending less to do so.
Geographic Arbitrage Can Be Performed Locally, Domestically, or Internationally
Local geographic arbitrage involves moving from a higher cost-of-living area to a lower cost-of-living area that is close by. For example, as we worked toward our early retirement goals we moved a mere 30 minutes away while maintaining the same jobs and income. This allowed us to significantly lower our cost of living.
As a side note, we also downsized our home during the move to further reduce our costs. This move was a huge factor in our ability to reach our early retirement goal.
Domestic geographic arbitrage involves moving to another state or region within your home country that offers a lower cost of living while maintaining a similar income. This may be due to lower real estate or rent prices, more favorable real estate taxes, or moving to a place with no state income tax.
We considered domestic geographic arbitrage and did some traveling around the U.S. to explore this option. However, as our early retirement plans evolved, we decided slow nomadic international living was the right choice for us. We intended to do large amounts of international travel anyway. So why not take advantage of the lower cost of living and do it full-time?
Can International Travel Really Cost Less in Retirement?
There are plenty of examples of digital nomads traveling the world while they work, ex-pats living abroad to stretch their retirement savings, and early retirees moving slowly around the world for less than the cost to live in their home country. We are not blazing any new trails here. The concept of geographic arbitrage is well established.
Traveling slowly through less expensive regions around the world such as Southeast Asia, Mexico, South America, and Eastern Europe enables us to spend significantly less on our largest living expenses. This includes housing, food, transportation, and health care.
Real-World Examples of Geographic Arbitrage at Work
We travel slowly, usually staying one to two months in each location. This not only reduces housing and transportation costs but reduces the risk of travel burnout by constantly moving. It also enables us to really get to know a place well.
We launched our nomadic travels in June of 2021 and spent our first year of early retirement in Mexico. In a time when travel was difficult in most places of the world, Mexico was easy.
Our total spend in our first year of international travel was $26,200. This includes the purchase of a primary international health insurance plan for two people. This is quite a bit under budget for us and, honestly, it was pretty easy to accomplish. Our second year of international travel appears to be shaping up to be well under budget again.
The following provides examples of our nomadic cost of living with a few other money-saving tips thrown in.
Housing
Most of our housing has been secured through Airbnb, with a few acquired through booking.com and Agoda. As mentioned previously, we stay in most places for at least one month. This typically results in sizeable discounts on Airbnb. The downside to longer-term stays on Airbnb is that the cancellation policy tends to only be 48 hours in most cases.
Our monthly rents throughout Mexico have ranged from $600/month for a one-bedroom Casita in San Miguel de Allende to $1300/month for a one-bedroom beachside apartment in Puerto Morelos.
More recent examples include one-bedroom apartments with amenities such as a gym and pool in Chiang Mai, Thailand and Melaka, Malaysia for a little over $700/month. We recently secured a one-bedroom apartment with the same amenities in Danang, Vietnam for just over $400/month.
Dining
In general, dining out has been much less expensive during our international travels than it has been in the U.S.
Some examples in Mexico include:
Street Tacos in Mexico City. 10 tacos for $4 U.S.
Massive beachside shrimp cocktail in Puerto Escondido for $5-$6 U.S.
Dining out in Southeast Asia has been even more cost-effective than in Mexico. Some examples include:
This glorious large bowl of Curry Laksa on the streets of Kuala Lumpur, Malaysia for $1.80 U.S.
This Wan Tan Mee breakfast in a small noodle shop in Penang, Malaysia for $1.50 U.S.
So many bowls of Khoa Soi in Chiang Mai Thailand for under $2 U.S. per bowl
Delicious earthen jar crispy roast pork belly with a side of stir-fried morning glory and rice for two. Total cost $7 U.S.
Other ways we keep our food budget under control include:
Eating like a local. Depending on where we travel, western dishes can be found. However, compared to local dishes they can be expensive. Although we occasionally indulge in a fancy western meal and enjoy the occasional craft beer, we mostly eat local dishes.
We actually pride ourselves on pounding the pavements and finding the local food gems. This has the additional benefit of enriching our travel experience. I've often enjoyed rubbing elbows with the local folks and gossiping aunties while enjoying a delicious bowl of Curry Laksa or Wan Tan Mee.
Buying produce from the street markets. We have found the fruits and vegetables at the street markets in both Mexico and Southeast Asia to be of great quality and very affordable in comparison to the U.S. We also shop at small local stores and tiendas when possible. There are larger chain grocery stores available in most of the places we have traveled. However, they generally have higher prices.
Cooking at home. We almost always rent a place with a kitchen. The main purpose of this is for health reasons and to have some degree of control over our diet. A great side benefit is lowering our costs.
You might think that dining out is so inexpensive it may not be worth it to cook. However, I say it depends on where you shop and where you eat. If you only shop at the large chain-style grocery stores and only eat at street food/hawker stalls, this may be true. However, you can definitely save by shopping at street markets and tiendas, while avoiding eateries that cater to tourists.
Transportation
Travel Between Destinations
As mentioned previously, we prefer to stay in a location for at least a month, sometimes two. This decreases transportation costs between destinations.
In Mexico, we very much preferred bus travel between cities. It not only costs less, but it's more comfortable and hassle-free. We continue to prefer this mode of transportation in Southeast Asia, but it's not as readily available when moving between countries.
Our most inexpensive bus ride occurred between Kuala Lumpur and Melaka, Malaysia at $2 U.S. per ticket.
However, moving up to a luxury ride is affordable as well. A pretty swank double-decker bus ride from Kuala Lumpur to Penang, Malaysia cost us $13.50 U.S. per ticket. Included were comfy reclining seats, a TV with a movie, headphones, blankets, pillows, meals, and beverages.
Fortunately, most flights between Southeast Asian countries are short 2-3 hour trips. Flights can be quite inexpensive If you plan your itinerary strategically. So much so that we don't bother with using our points with these flights. We tend to save our points for longer intercontinental flights. I've seen airfares as low as $12 between Southeast Asian countries. More typically, they run around $25-$50 for budget airlines.
Local Transportation
We are walkers and tend to prefer walkable places. Walking saves money and, more importantly, provides free exercise. Despite my current obsession with noodles, I've managed to maintain my weight very well. Walking has played a large role in this.
When walking isn't an option or we don't feel like it, we have plenty of inexpensive transportation options at our disposal.
With a few exceptions (I'm looking at you Cancun), taxis are inexpensive compared to the U.S.
In addition, ride-sharing apps such as Grab and Bolt provide affordable and convenient transportation. Other options are available as well, such as songtaews and tuk-tuks for less than a dollar around Chiang Mai, Thailand.
Utilizing the public transportation systems in most of these countries provides the ultimate savings, costing mere cents in most cases. Honestly, those "chicken buses" in Mexico are not as bad as they sound.
Healthcare
The U.S. is the most expensive country in the world for health care. This is one of the biggest roadblocks to early retirement in the U.S. and a large reason we went international. Quality health care can be found in other parts of the world for significantly less. This enables us to easily pay out of pocket for most basic healthcare needs.
After much research, we decided to purchase a primary international health insurance plan to cover us for any catastrophic events such as cancer or other debilitating injuries. We view it more as wealth insurance than health insurance.
Compared to the U.S., our international health insurance plan is very affordable. We have a one-year policy for two that provides $5 million in coverage each. It covers us everywhere in the world excluding more expensive countries such as the U.S., Canada, Singapore, Japan, and Sweden. However, we do get 6 months of coverage in our home country of the U.S. Our premium is just under $2,700 U.S./year with a $5,000 deductible. The deductible is reduced to $2,500 if choosing to receive care outside of the U.S.
The premium could be reduced even further with a larger deductible. However, we felt the $5,000 deductible was the financial sweet spot for our particular plan.
With that said, we pay for all of our routine and small healthcare needs out of pocket. We have received excellent low-cost healthcare wherever we have sought it.
Some examples include:
A visit with a pharmacy doctor and a one-week course of antibiotics in San Miguel de Allende, Mexico. Total cost $11.50 U.S.
Dental exam, cleaning, and X-rays in Chiang Mai, Thailand. Total cost $32 U.S.
An ortho consultation and MRI for my shoulder in Penang, Malaysia. Total cost $260 U.S.
A thorough routine health screen that included blood work, ultrasound of internal organs, and body scan in Penang, Malaysia $100 U.S.
A colonoscopy in Penang, Malaysia. Total cost $360 U.S.
Geographic Arbitrage is not Just About Spending Less
Spending less is great insurance against running out of funds in retirement. However, taking advantage of geographic arbitrage through international travel is not just about spending less. It's also about increasing our standard of living while exploring the world.
Although we maintain a less is more philosophy while traveling, we have no desire to pinch every penny. We plan to enjoy great food, stay in desirable locations, and regularly take excursions that may otherwise be cost-prohibitive in our home country. All this while satisfying our wanderlust, experiencing different cultures, and creating lasting memories.
Geographic arbitrage also provides us with financial peace of mind. Despite the recent losses to our investment portfolio and the current inflationary environment, we have few worries regarding our financial future. Our choice of international travel while harnessing the power of geographic arbitrage has served us well as early retirees. I am confident it will continue to do so.
In fact, I'm thinking it may be time to loosen the purse strings a bit more. It will be a great experiment to see if an increase in spending actually increases our perceived quality of life. But hey, it provides great peace of mind to know we can still live well if we ever need to pull back our spending.
Do you have any great examples of geographic arbitrage working for you? Do you have any resources to share for cost-effective long-term travel? Are you currently developing your slow location-independent travel plans? Please consider sharing in the comments below. We would love to hear from you.