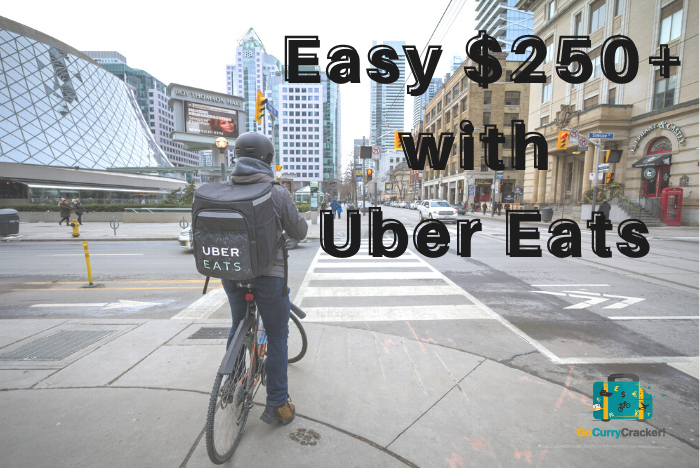 I recently read a post on Frequent Miler about a deal where you can earn $250 or more by becoming an UberEats delivery person and completing a single order. Though I don't usually bother with low-reward, high-effort deals anymore (like gift card arbitrage), this one piqued my interest so I decided to give it a go – and it was easier than expected!
Definitely a good way to get a $250 Christmas Bonus. Would do again.
I have to admit that what initially caught my eye about this deal was that it is through the MyPoints shopping portal, which I had a bad experience with several years ago when I bought some Choice Hotels gift cards and the points were never posted to my account despite several follow-ups. However, after reading the comments on the Frequent Miler post and seeing how most people were having success, I decided to give it a try. Worst case scenario the points wouldn't post for this deal either and I would have a funny story to tell. 
Though UberEats is essentially non-existent in Maine, my wife and I were visiting family in Chicago over the Thanksgiving holiday and so we each signed up for the deal knowing the service is available all over the city. My background check took just a few days to complete and hers took about ten days. After that, we were both cleared to deliver.
One morning around lunchtime, I activated the Uber Driver app and began receiving requests immediately. I rejected the first few (they were too far away and I was feeling lazy) until a request came in for pickup at a local taco shop with delivery just two blocks away. Perfect! I accepted and headed out the door. Within 15 minutes I was back home having completed the order, earning $7 from Uber after a $4 tip and an eventual 40,000 MyPoints.  
The next day, my wife did the same and had a similar experience. For less than an hours' worth of work, we had 80,000 MyPoints between us and were able to cash them out for $500 in PayPal payments.
Here's how to complete this deal for yourself:
Sign up for a MyPoints account (shopping portal). Use

my referral link

to get 1,750 points after you spend $20, or

go here

.

Sign up for an Uber Driver account by clicking through to the deal on

MyPoints

. You can sign up for deliveries via car, bicycle, scooter, or foot if available in your area.

Pass the background check (which can take up to 30 days), then go online via the Uber Driver app to accept delivery requests.

Complete one delivery within 30 days of passing the background check. 

Watch your MyPoints account for the points to post (may take up to 32 days, but is usually much faster).

Cash-out your MyPoints for either PayPal payments or gift cards (if cashing out via PayPal you will earn $250 with 300 points leftover. Cashing out via gift cards will yield slightly more depending on your choice). 

Repeat with your partner to double up your earnings.
A couple of tips:
When clicking through the MyPoints portal to Uber, do so in a separate browser (or Incognito mode) to ensure it tracks your activity properly. If you have an ad blocker or another browser extension that interferes with cookies it may not record your visit. If your points don't show up as "Pending" on your MyPoints within a couple of days of completing your delivery, visit the Account Ledger section of your account and ensure it recorded your visit properly and send them a message if not.
When signing up to deliver with Uber, the process is essentially the same as enrolling as a driver for rides but is less stringent as you don't need to submit car insurance and other details. You have to select your mode of transportation at the beginning and it is difficult to change afterward. When I signed up, I selected to deliver by car since we had one in Maine, but when we were in Chicago we were on foot and there was no easy way to change it after enrollment, so I had to reject a lot of requests that were too far away to walk.
You don't have to accept the first request that comes up when you go active on the Uber Driver app – reject the requests until you find an easy one and don't make it too complicated.
Final Thoughts
This is an easy $250 deal (or $500+ if playing two-player mode) if you have UberEats in your area or are traveling to a place that does. Though it does take some time to set up in advance, it can be quick to complete once you pass the background check and begin accepting orders. I don't necessarily think being an UberEats delivery person is an efficient way to earn extra money (free travel is much better!), but for this kind of return it's hard to see the downside. Give it a shot and let us know how it goes!
Addendum
[GCC] I also did this promotion recently for car delivery. I made a single delivery of a Starbucks order earning ~$8 (with tip) and the 40,000 points bonus will season in 2 days (started at 5.)
There were zero delivery options in my immediate area, but like Brandon we had other reasons to be in a more populous locale and I took to the streets while the kids were at a park with Mom. It took about 45 minutes total… 15-20 minutes to get my first order, 10 minutes to pickup, and another 15 minutes to delivery. Overall not a great money earner by itself, but an extra $250 changes the calculus just a bit.
Top offers from our partners
Interested in getting the best and latest offers directly in your inbox? We stay on top of the best offerings so you don't have to. Subscribe here.
Editorial Note – Opinions expressed here are author's alone, not those of any bank, credit card issuer, hotel, airline, or other entity. This content has not been reviewed, approved or otherwise endorsed by any of the entities included within the post.
User Generated Content Disclosure – Responses are not provided or commissioned by the bank advertiser. Responses have not been reviewed, approved or otherwise endorsed by the bank advertiser. It is not the bank advertiser's responsibility to ensure all posts and/or questions are answered.